EN
The Fastest and Most Nutritious Delicious Sandwich Recipes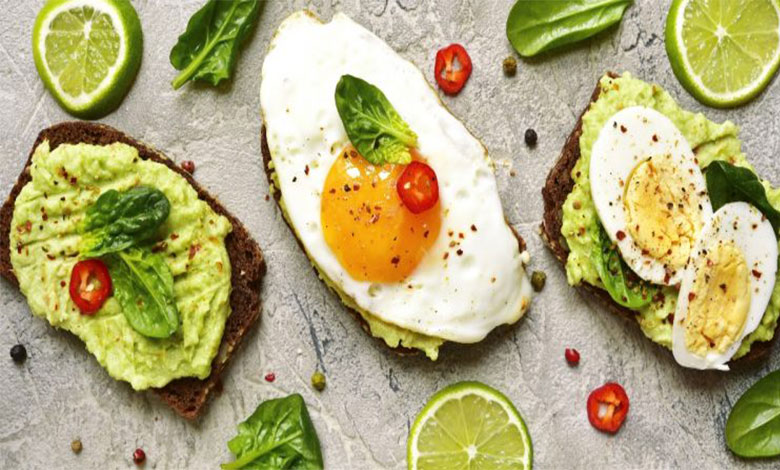 The Fastest and Most Nutritious Delicious Sandwich Recipes. In this article; What is the healthiest sandwich you can eat? How can I make my sandwich more nutritious? Can a sandwich be healthy for lunch? What are the 10 most popular sandwiches? You can find answers to questions and cold sandwich recipes…
The Fastest and Most Nutritious Delicious Sandwich Recipes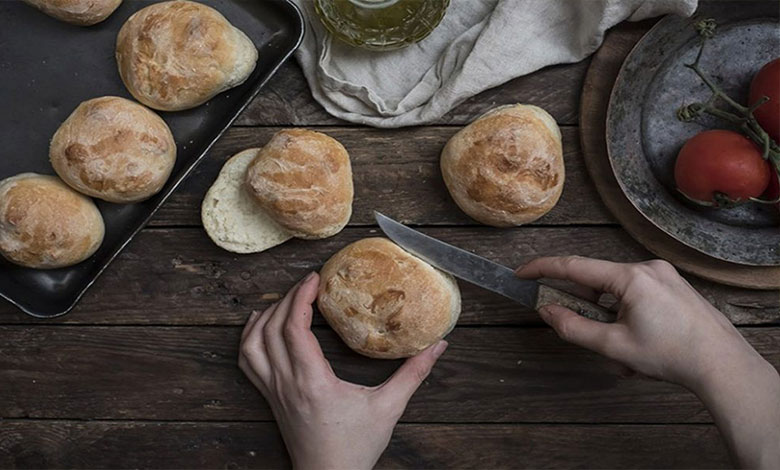 Do we have any fancy sandwich recipes? Lunching on a sandwich does not have to mean eating the same thing every day. In fact, to cover your needs for all nutrients, it is most important to vary the ingredients you choose as much as possible.
Short on time for lunch? The perfect solution for a quick, nutritious and light break, even on a diet, is the sandwich: just fill it with fresh, seasonal ingredients, limit the condiments and, above all, make your own home-made sandwich for an even more wholesome meal.
The sandwich does not represent, as people are mistakenly led to believe, an unbalanced and unhealthy meal; on the contrary, if it is well balanced in all its nutrients, it can be a good alternative to the rich salad or pasta dish.
If you follow the diet you can consume it instead of a full meal, when for example you have carbohydrates, protein and vegetables, but if you follow the Melarossa diet you will know that there is a special option to select the sandwich diet. A gimmick to eat healthy, balanced by following seasonality, but without wasting too much time in the kitchen and during your lunch break.
---
Tasty sandwich recipes: which bread to choose?
When you make yourself a sandwich, bread cannot be ignored. It should not be underestimated since, in the right doses for your energy needs, it is the accompaniment that allows you to get full and not fall into afternoon hunger attacks.
The best bread from a dietary point of view is definitely whole wheat bread, because with its unrefined grains it is the richest in fiber, which gives a greater sense of satiety and facilitates intestinal transit. As an alternative, less seasoned breads, such as French or Arabic bread, are fine.
Green light also for piadinas and white pizzas, if you have the foresight to prepare them yourself so as to limit seasonings and favor healthier ones (extra virgin olive oil is better than the lard that is traditionally used in piadinas, especially if you are on a diet).
A tip: If instead of the classic rosetta or ciriola, you cut two slices of bread, you can adjust and thus reduce your grain intake from 80 grams to 60g (two 30g slices).
You can let your imagination fly and try different combinations using other types of bread as well:
rye
cereal
whole wheat
or even regional types.
Plus, if you want to indulge in the kitchen, try making your own soft, super-fast sandwiches that you can stuff or eat as an accompaniment to a salad or side dish.
---
How to stuff sandwiches?
For sandwiches, first of all lots of vegetables, such as:
lettuce
arugula
tomatoes
peppers
zucchini
grilled eggplant
spinach
boiled or steamed beets, and so on.
You can accompany them with lean meats or cold cuts such as:
chicken, roast beef, bresaola, defatted ham, cooked ham, and turkey
fish (salmon, tuna, shrimp, anchovies, mackerel)
fresh cheeses (mozzarella, ricotta and stracchino)
legumes (chickpeas, lentils, beans).
---
How to make bread (for sandwiches) at home
Total calories: 1400 kcal / Calories per sandwich: 200 kcal
Ingredients for 7 sandwiches:
200 g manitoba flour
200 g of 00 flour
170 ml lukewarm water
80 ml lukewarm milk + 2 tablespoons to brush on the buns
1 teaspoon sugar
2 teaspoons salt
8 g dry brewer's yeast.
Find out how to make homemade rolls.
The Melarossa editorial staff, in collaboration with culinary expert Antonella Pagliaroli, brings you light sandwich ideas with tasty fillings.
---
Fancy sandwiches: all the recipes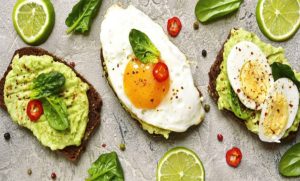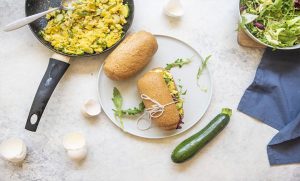 1 – Zucchini scrambled egg and salad sandwich
Total calories: 810 kcal / Calories per sandwich: 405 kcal
Ingredients for 2 sandwiches
2 whole-grain sandwiches, 80 g each
2 zucchini
4 eggs
20 ml of skim milk
2 teaspoons extra virgin olive oil
40 g mixed salad greens
salt to taste
pepper to taste
2 – Summer vegetable sandwich with basil and ricotta cheese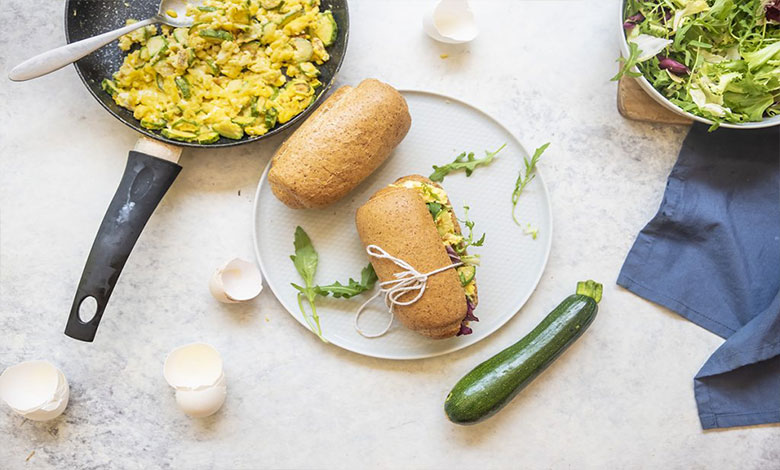 Total calories: 830 kcal / Calories per sandwich: 208 kcal
Ingredients for 4 sandwiches:
4 sandwiches, 85 g each
1 bell bell pepper
2 medium eggplant
2 zucchini
4 teaspoons of extra virgin olive oil
fresh basil to taste
160 g low-fat ricotta cheese
salt to taste
pepper to taste
3 – Sandwich with tzatziki, mackerel, black olives and tomato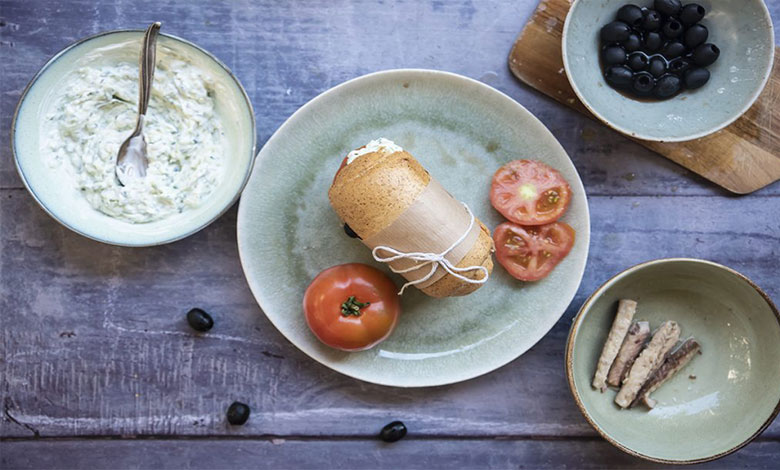 Total calories: 790 kcal / Calories per sandwich: 395 kcal
Ingredients for 2 sandwiches:
2 whole-grain sandwiches, 80 g each
1 cucumber
150 g low-fat Greek yogurt
a small piece of garlic
140 g natural mackerel
2 tomatoes
20 g black olives
1 teaspoon of vinegar
salt to taste
pepper to taste
4 – Sandwich with feta, avocado, spring onion, salad greens and black olives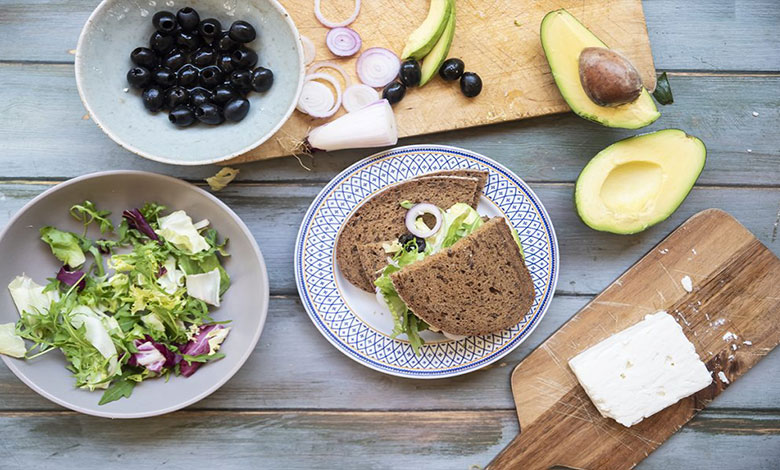 Total calories: 900 kcal / Calories per sandwich: 450 kcal
Ingredients for 2 sandwiches:
4 slices of rye bread, 40 g each
80 g avocado
80 g feta cheese
1 Tropea red onion
20 g black olives
30 g mixed salad greens
1 teaspoon extra virgin olive oil
salt to taste
pepper to taste
5 – Sandwich with bresaola, basil ricotta and confit tomatoes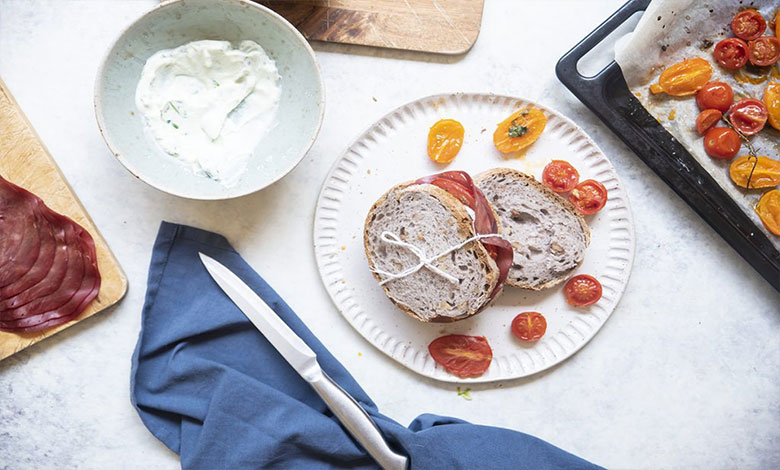 Total calories: 760 kcal / Calories per sandwich: 380 kcal
Ingredients for 2 sandwiches:
300 g date tomatoes
4 slices of whole wheat bread, 40 g each
80 g ricotta cheese
70 g bresaola
a small piece of garlic
fresh basil to taste
fresh oregano to taste
thyme to taste
parsley to taste
2 teaspoons extra-virgin olive oil
1/2 teaspoon sugar
salt to taste
pepper to taste
6 – Sandwich with zucchini pesto, roasted turkey rump and lettuce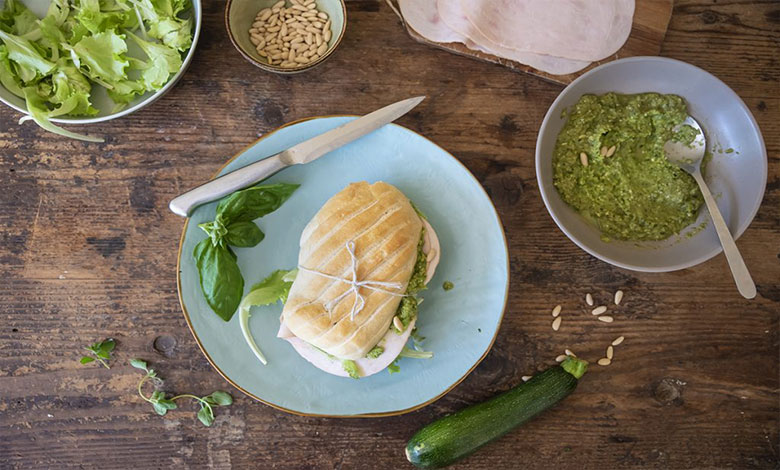 Total calories: 810 kcal / Calories per sandwich: 405 kcal
Ingredients for 2 sandwiches:
2 sandwiches, 80 g each
1 zucchini
a small piece of garlic
10 g parmesan cheese
10 g pine nuts
basil to taste
1 tablespoon of extra virgin olive oil
100 g roasted turkey rump
40 g lettuce
salt to taste
7 – Sandwich with tuna and robiola mousse, capers, olives, and salad greens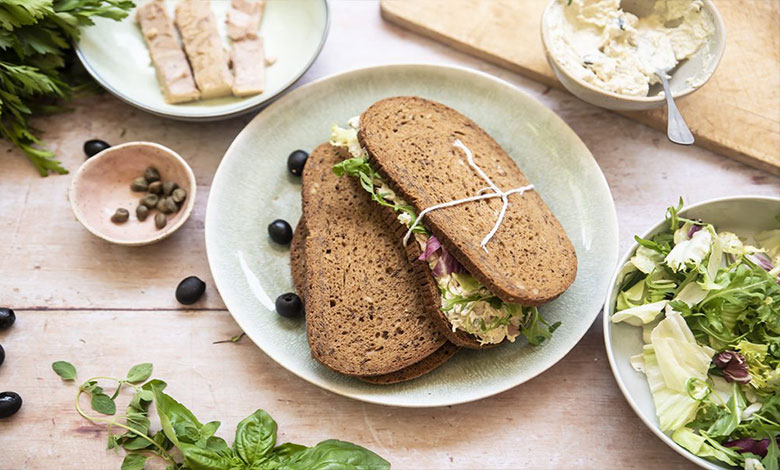 Total calories: 910 kcal / Calories per sandwich: 455 kcal
Ingredients for 2 sandwiches:
4 slices of rye bread, 40 g each
60 g natural tuna
40 g mixed salad greens
5 g capers
10 g black olives
For the mousse
60 g natural tuna
100 g of robiola cheese
oregano to taste
parsley to taste
thyme to taste
basil to taste
5 g capers
10 g black olives
salt to taste
pepper to taste
8 – Baked herb omelet and ricotta cheese sandwich with lettuce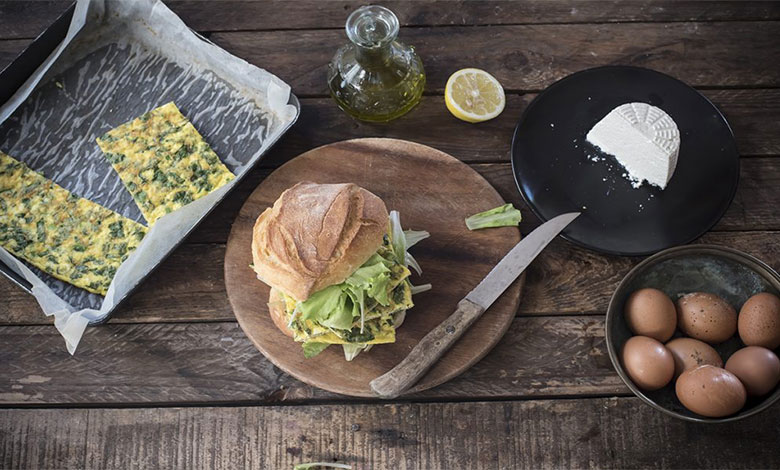 Total calories: 1433 kcal / Calories per sandwich: 475 kcal
Ingredients for 3 people:
5 eggs
150 g low-fat ricotta cheese
30 g of chard (spinach and Swiss chard)
30 g parmesan cheese
salt to taste
pepper to taste
30 g lettuce
3 rolls
1 tablespoon extra virgin olive oil
Ingredienti per 1 panino:
100 g di petto di pollo
10 g di insalata mista
20 g di carote tagliate a julienne
30 ml di yogurt bianco intero
½ spicchio d'aglio
½ cucchiaino di olio extravergine d'oliva
sale q.b.
pepe q.b.
timo q.b
9 – Sandwich with grilled chicken, julienned carrots, salad and yogurt sauce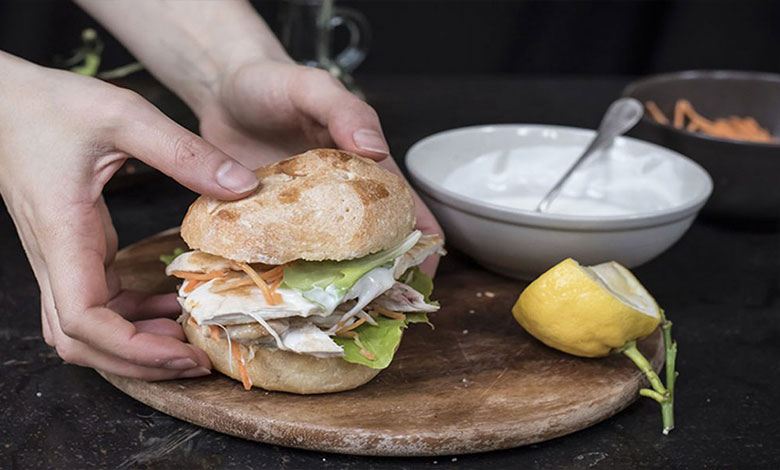 Calories per sandwich: 160 kcal
Ingredients for 1 sandwich:
100 g chicken breast
10 g mixed salad
20 g julienned carrots
30 ml whole white yogurt
½ clove of garlic
½ teaspoon of extra virgin olive oil
salt to taste
pepper to taste
thyme to taste
10 – Veg sandwich with chickpea hummus, avocado and fresh spinach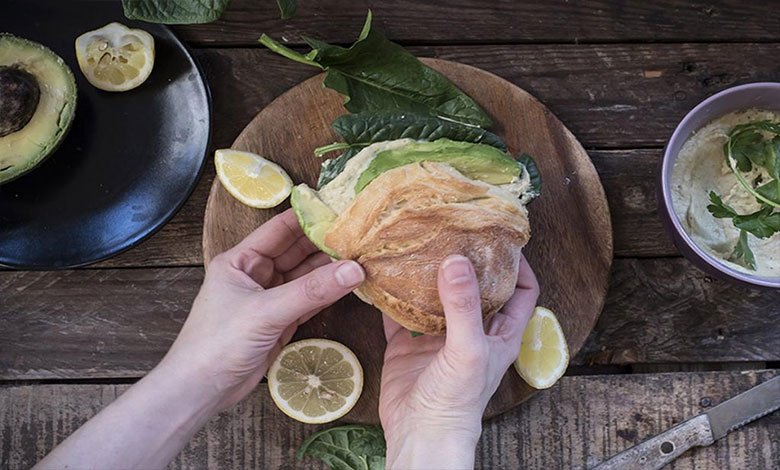 Total calories: 932 kcal / Calories per sandwich: 466 kcal
Ingredients for 2 persons:
250 g of already boiled chickpeas
½ clove of garlic
1 squeezed lemon
4 teaspoons tahina (sesame paste)
salt to taste
paprika to taste
parsley to taste
½ avocado
2 rolls
30 g fresh spinach
11 – Salmon, radicchio and robiola cheese sandwich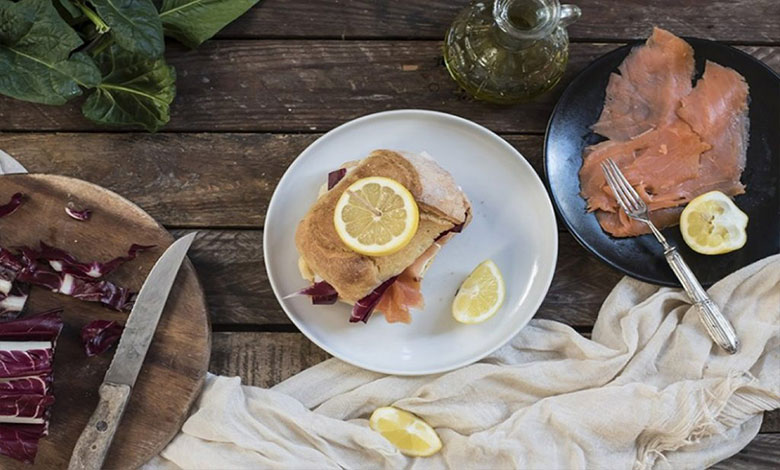 Total calories: 749 kcal / Calories per sandwich: 374 kcal
Ingredients for 2 people:
2 sandwiches
80 g smoked salmon
50 g of robiola cheese
40 g radicchio
1 teaspoon extra virgin olive oil
salt to taste
12 – Whole wheat sandwich with zucchini, guacamole and fenugreek sprouts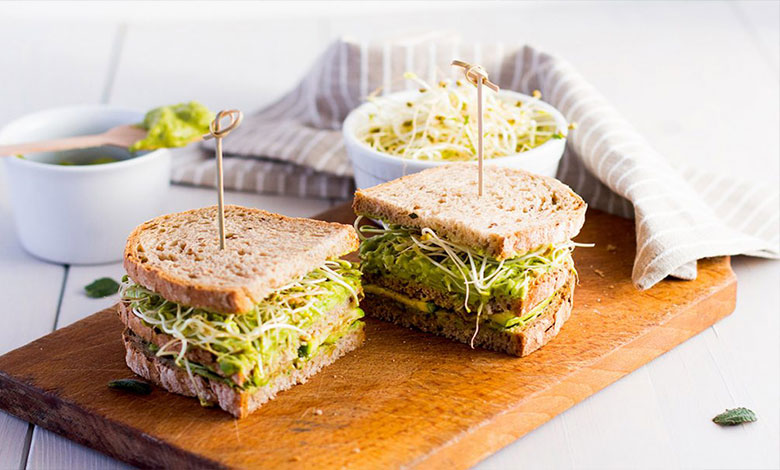 Total calories: 674 kcal / Calories per sandwich: 337 kcal
Ingredients for 2 sandwiches:
3 thin slices of whole wheat bread
1 small zucchini
1 small ripe avocado
1 small shallot
2 cloves of garlic
1 lime (the juice)
1 green chili pepper
a pinch of cumin
extra virgin olive oil to taste
1 package of fenugreek sprouts
salt to taste
pepper to taste
mint leaves to taste
13 – Whole wheat sandwich with salmon and zucchini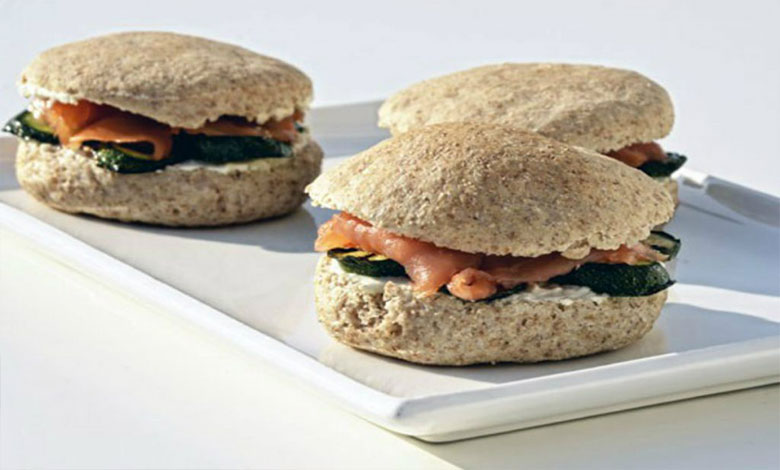 Calories per sandwich: 350 kcal
Ingredients for 1 sandwich:
1 whole wheat sandwich
30 g smoked salmon
20 g light spreadable cheese
one grilled zucchini
basil to taste
salt to taste
pepper to taste
a teaspoon of extra virgin olive oil
14 – Mediterranean sandwich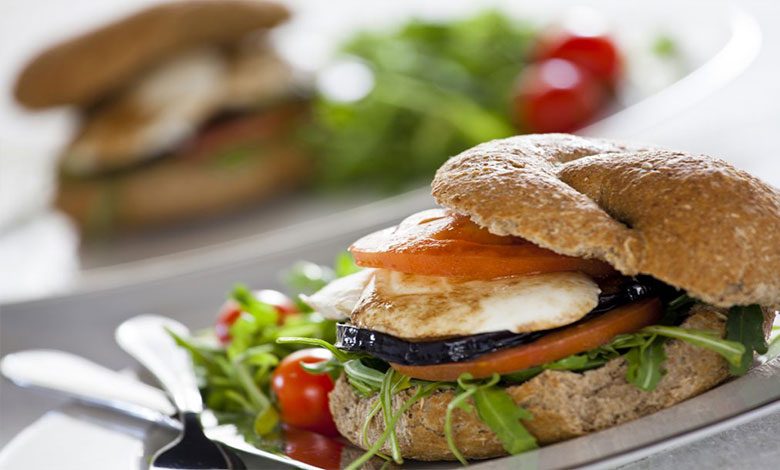 Calories per sandwich: 400 kcal
Ingredients for 1 sandwich:
1 sandwich
auburn tomatoes to taste
grilled eggplant to taste
3 thinly sliced buffalo mozzarellas
basil to taste
1 teaspoon extra-virgin olive oil
salt to taste
---
You may be interested  👇
👉 How to cook chicory? Pan-seared Chicory
👉 Best Vegetarian Turkish Food Zucchini Mucver Recipe
👉 10 Detox Recipes With Vegetables to Cleanse You
👉 Click to follow the Student Agenda on Instagram