EN
How to Enable Two-Factor Authentication Without Texting on Twitter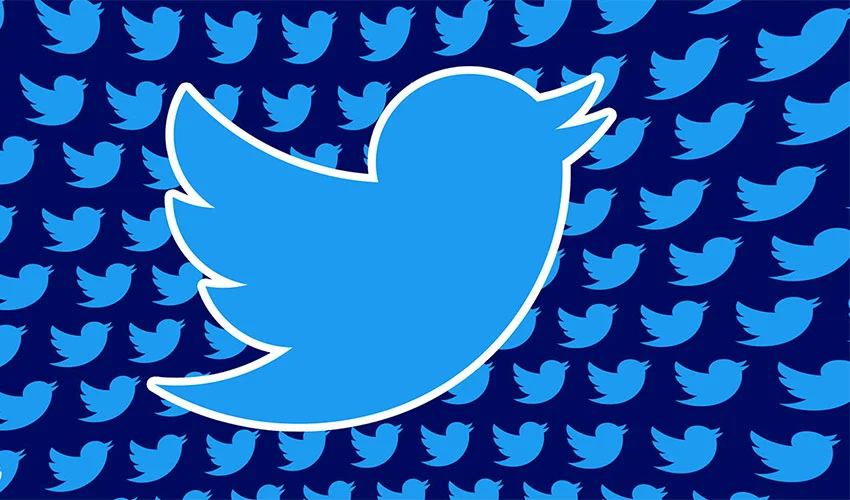 How to enable two-factor authentication without texting on Twitter. The news is out: two-factor authentication via texting, adopted by nearly 75 percent of active Twitter users, will become a feature of Twitter Blue on March 20. Here are the free alternatives for those who don't want to subscribe to the social network's paid service.
How to Enable Two-Factor Authentication Without Texting on Twitter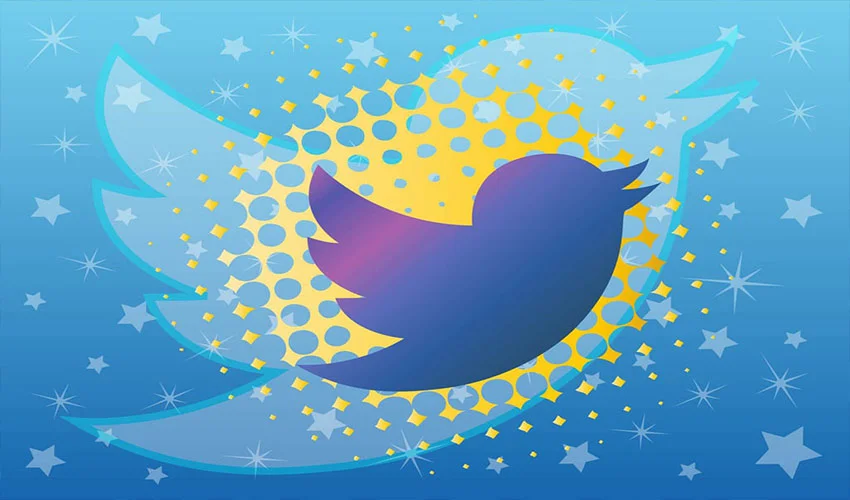 Among the options available to Internet users are the use of a security USB key or the use of an authentication application. According to experts, these are more secure methods than receiving a login code sent by text message. For example, people are able to steal a person's phone number by convincing their telecom service to transfer it to another SIM card, a method known as "SIM-swapping.
Rule #1: Never charge for something that was previously free https://t.co/abRu87zf7x

— Marques Brownlee (@MKBHD) February 18, 2023
Twitter owner Elon Musk even claims that the malicious use of two-factor authentication via texting costs the social network about $60 million U.S. ($81.2 million Canadian) annually.
---
Authentication app or security key?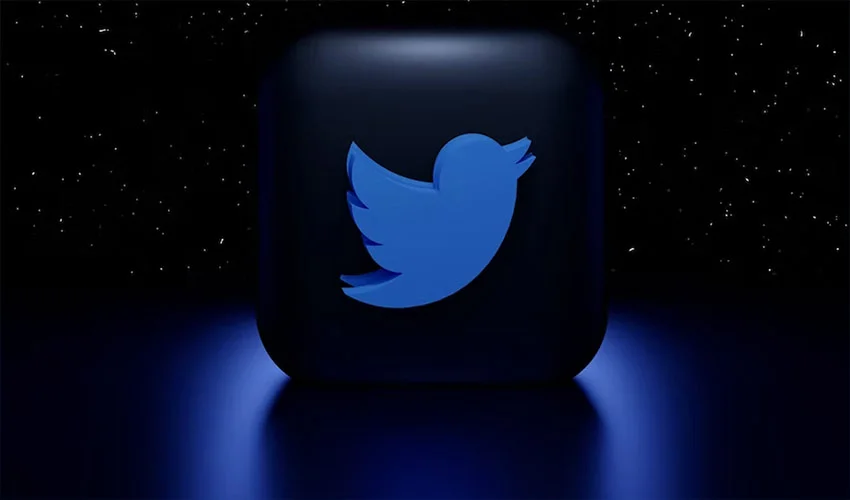 Among the most used authentication applications is Google Authenticator, available on iOS and Android. It allows you to validate the connection to an account by scanning a QR code, or by entering a code on the keyboard. The third-party applications 1Password, Authy, Duo Mobile or iOS AutoFill, among others, also work.
Password management applications built into smartphones, such as the Passwords feature in iPhone settings, can also serve as a two-step authenticator for Twitter, among other things, according to the British newspaper The Guardian.
The second option for users who don't want to subscribe to Twitter Blue is to get a security key. It can be wi-fi, or inserted through the USB, USB-C or Lightning port of a computer to authenticate online.
To enable either of these options, you need to go to the Settings and Privacy tab on Twitter's mobile app, then to Security and Account Access, Security, and finally Two Factor Authentication. Then select the Authentication Application or Security Key option, and follow the instructions. Make sure you have your password memorized, as you will need to enter it during setup.
---
Why Twitter is making this change to two-factor authentication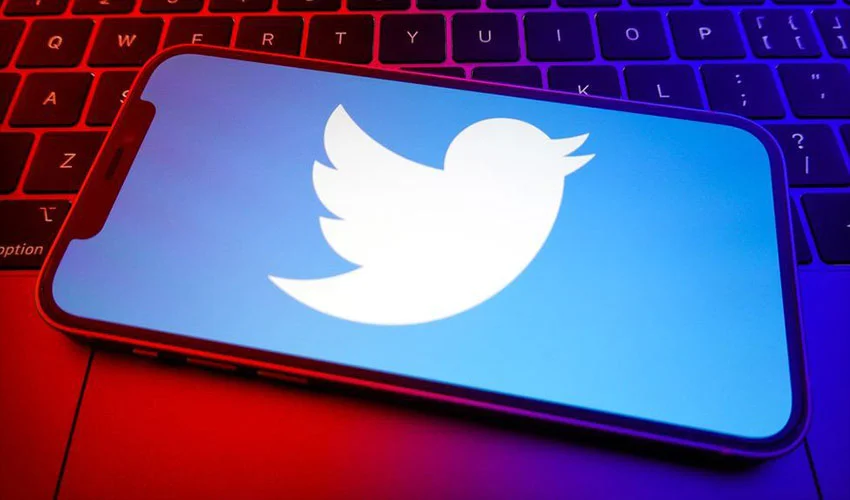 Since Elon Musk bought Twitter for the inflated price of $44 billion, he has attempted to cut costs as much as possible. He recently said on Twitter that "Twitter is getting scammed by phone companies for $60M/year of fake 2FA SMS messages."
SMS messages are not free, and it's not clear whether Twitter is really "getting scammed," but deciding to throw away security in this way seems shortsighted. While only a small percentage of Twitter users have 2FA turned on, and getting people to use an authenticator app instead of SMS is a good thing, the fact that Twitter is leaving SMS authentication available for a fee makes little sense. Essentially, paying users get lower security, if they wish, while users who don't pay and want to use 2FA will be more secure.
Twitter could have switched their SMS two-factor authentication to email-based codes, which they use when they verify email addresses. This would be more or less free – there's only minimal bandwidth costs for email, whereas there are carrier costs for SMS – and this is more secure than SMS.
In addition, Twitter users may go for months, or even years without needing to enter a new code. You only need to enter a code when logging in on a new device or a new browser. I can't remember the last time I had to enter a 2FA code for my Twitter account.
It is possible that these "fake 2FA SMS messages" are sent when scammers try to log into accounts that are protected with 2FA. Perhaps a hacker has a username and password, and attempts to access an account, or tries to reset a password; at that point, an SMS is sent to the user.
---
How to set up Twitter's two-factor authentication with an authenticator app
Setting up 2FA on Twitter is simple. On the Twitter website, tap or click the … icon, choose Settings and Support, then Settings and Privacy. Tap or click Security and Account Access, then Security.
In the Twitter app, tap or click your avatar, then Settings and Support, then Settings and Privacy.
The Two-Factor Authentication section allows you to manage this feature.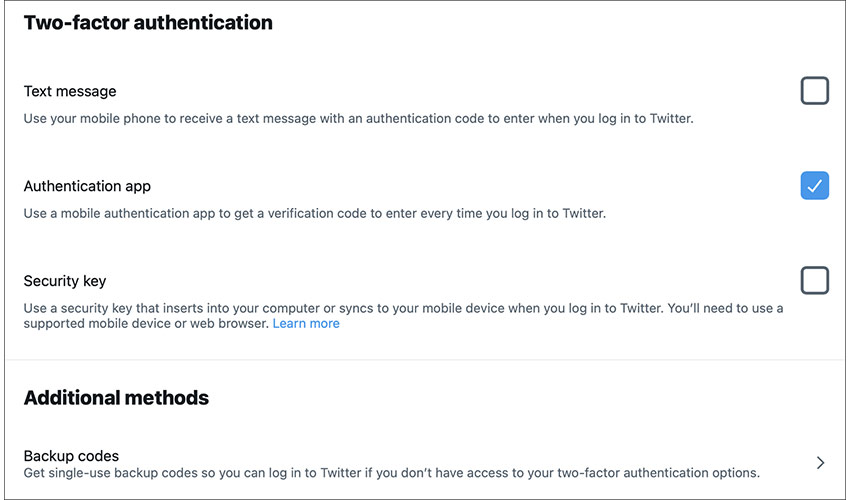 You can see the three options currently available: Text message, Authentication app, and Security key. You can also see, under Additional methods, a Backup codes section, which I discuss at the end of this article.
Tap or click the Authentication app checkbox. Follow the instructions, and, if you haven't already confirmed your email address, Twitter will send you a confirmation email. Enter the code in this email. Twitter explains the steps for setting up two-factor authentication.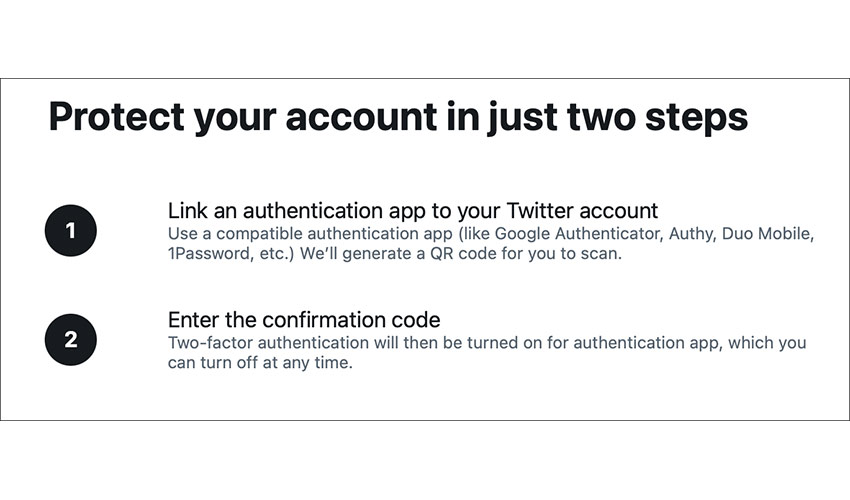 Twitter then displays a QR code; use the authenticator app on your phone to scan this code, then generate a code and enter it on the Twitter website. (I discuss authenticator apps below.)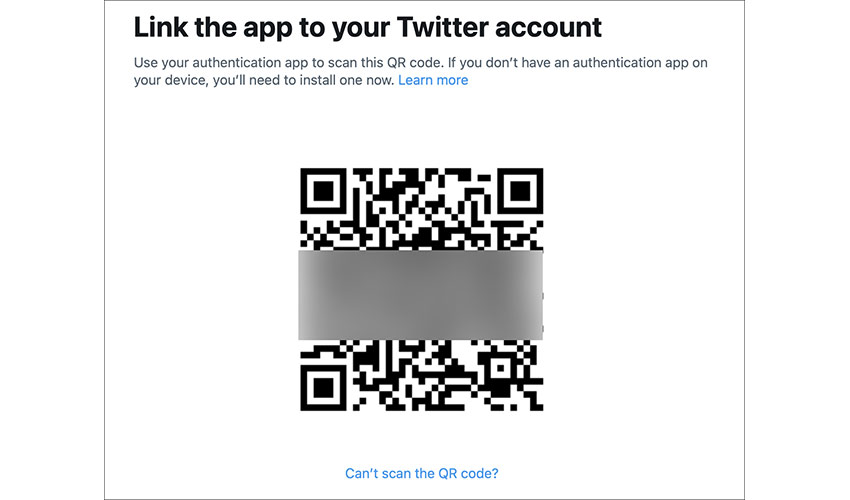 If you can't scan the QR code, click the link below it to get a long alphanumeric code that you enter in your authenticator app.
Each time you log into Twitter on a new device or in a new browser, you'll need to enter your user name, password, and a unique code that you generate.
Using the Apple Keychain as an authenticator app
To perform the above, you need an authenticator app, but you can also use the Keychain, which is built in to macOS, iOS, and iPadOS. Since macOS Monterey and iOS 15, the Keychain has supported two-factor authentication codes, and the information syncs across your devices via iCloud. As long as you don't need to log in on an Android or Windows device without having an Apple device handy, you will never need anything else.
To do this on a Mac, go to Safari > Settings, click Passwords, enter your Mac's password or use Touch ID, then find the Twitter account in the passwords list. Click Edit, then click Enter Setup Key: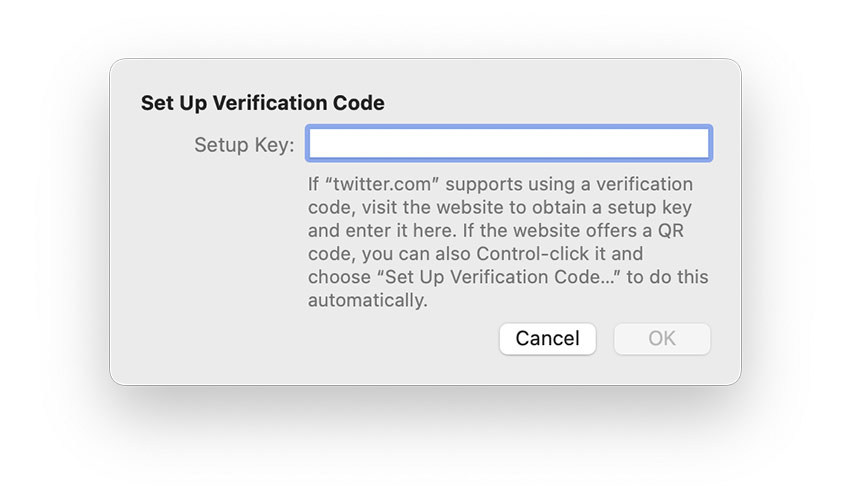 On an iPhone or iPad, go to Settings, scroll down a bit and tap Passwords, then search for the Twitter account you want to protect. Tap that entry, then, under Account Options, tap Set Up Verification Code. You have two options: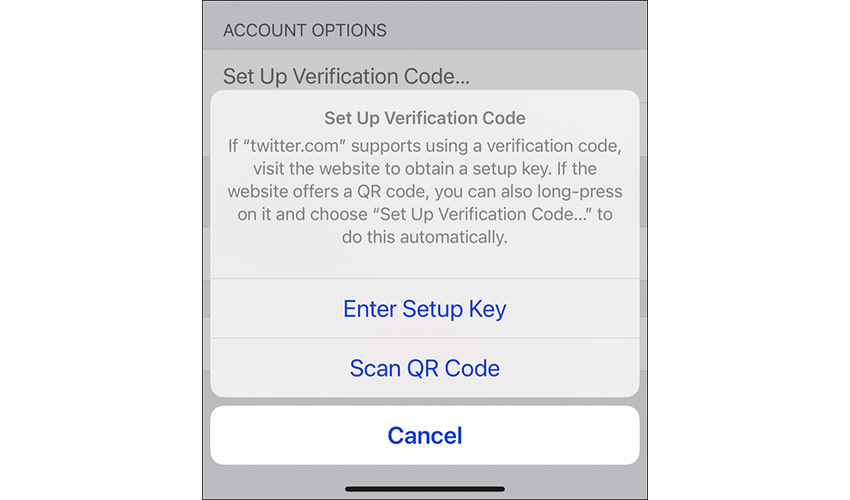 ---
👉What is a Yellow Tick on Twitter? Who Can Get a Yellow Tick on Twitter? What Does Yellow, Blue, Gray Click Mean on Twitter?
👉 Click to follow the Student Agenda on Instagram